Save time and money and get a better co-operation in the restaurant
Discover Systems Waiter Call System
Efficient and effective control of many guests in large areas
Improved, consistent communication from the kitchen to serving staff
More focused cooperation through group messages to larger staff numbers
A flexible workflow for serving staff with less hurrying back and forth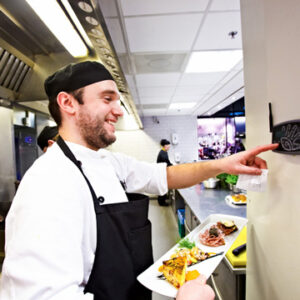 The situation is familiar: There are several events occurring in the restaurant, hotel or convention centre. There is a distance between the kitchen and the serving area. Various individuals, groups and large parties are served at once and several teams of servers need to be given different messages.
The Multi Call System makes it easy to transmit individual or multiple messages – via a user friendly display terminal.
How the multi call system works
The Discover Systems waiter call system is a simple paging system that allows you to send messages from one terminal to one or more handheld pagers. A number of messages can be encoded in advance, such as "Serving table 3", "Questions to order" or "Delay 20 minutes". Kitchen staff can, with one touch, send an individual or collective message to the entire serving staff in the area.
The pagers can be set to either vibrate, beep or both and can be reset manually or automatically. They can be connected to several terminals with for example, a terminal in both the kitchen and the reception.
Financing
We offer financing: Investment may be spread over a number of months. The system can also be rented over a 2 or 3 year period, with or without purchase rights.
Installation
The system is plug and play. Installation is simple and easy. Clear and concise instructions are included.
If desired, the system can be installed and staff trained in using the system in less than two hours.